AN EXCLUSIVE LOOK AT WHAT YOU CAN EXPECT AFIELD THIS FALL
A HUNTER TRANSPORTED from a century ago to 2001 would be shocked at what he found. No, not e-mail, computers, video games, and cell phones–rather, the sheer abundance of the game would overwhelm him.
From half-ton moose with massive palmated antlers to snow-white mountain goats, from coal-black bears skulking through Stygian forests to elk bugling at the edge of a frost-covered meadow, from nomadic caribou trekking with clicking hooves across the vast tundra to rugged bighorn rams scaling granite peaks, from open-country mulies to cover-loving whitetails, big-game animals are alive and well across North America. Populations of most of those species dwarf those of a century ago, thanks to the triumphs of modern wildlife management.
Recent winters have been mild, and hunting for most species has never been better. Save your money, cross your fingers as you fill out license applications, and get in shape. The big-game season is here. Read on for a preview of this year's outlook–and stay tuned next month for an in-depth state-by-state deer forecast for whitetails, mulies, and blacktails.
ELK
If one species epitomizes the success of wildlife management better than any other it's the elk. Private landowners and managers have stocked suitable lands with wild elk and carefully managed their harvest, with extraordinary results in places such as White Mountain, Vermejo, and Deseret Ranch. But even public hunts can yield jumbo bulls in limited-draw areas. And elk continue to expand eastward, with Pennsylvania's first season slated for this fall and Tennessee and Kentucky now reintroducing elk.
Colorado
No other state has as many elks, 264,000 says Big Game Manager John Ellenberger. "Our current population is substantially greater than we would like. Based on available habitat and management problems like game damage, we would prefer to have about 200,000 elk in the state."
The densest herds are in the western half of the state. "Highest success rates occur in our units that are managed for quality or trophy hunting, such as 2, 10, 40, 61, 76, and 201. However, licenses in these units are available by draw only, and it's not uncommon to need more than 10 preference points to draw a bull license in one of those units."
These limited-permit areas are the top public-land bets for trophy bulls. Private-land hunts in south-central Colorado are turning out huge elk in the 300 to 380 Boone and Crockett class, but you'll have to pay a stiff guide fee. Winter mortality has been light. "We got lucky," says Ellenberger.
Wyoming
"We have 100,000 elks," says Harry Harju, assistant chief of the Wildlife Division, "and high ratios of bulls to cows. The elk herd is well above its statewide objective, as are most of the individual herds. Our elk seasons are as liberal as they've ever been and we still don't get a big enough harvest."
Not only are elk numbers high, mature bulls are abundant. "Big bull elk are coming from several parts of Wyoming because more bulls are getting older. Places that have produced trophy bulls in the past few years include wilderness areas near Yellowstone, late hunts near Cody and Jackson, the Bighorn Mountains, Laramie Peak, Shirley Mountain, Little Mountain/Pine Mountain near Rock Springs, the Wyoming Range north of Kemmerer, and private-land herds out in the prairie north of Douglas."
Last year, Cowboy State hunters took 23,727 elks. Look for even more this season, with no significant winter mortality.
Idaho
This state has 124,000 animals, according to Lonn Kuck, wildlife game, and research manager. Since 70 percent of the land is publicly owned, access is good and 100,000 elk tags are issued. Idaho had a very mild winter, says Kuck, with little to no winter mortality.
General hunts accounted for 7,628 bulls with a 14.4 percent success rate. On controlled hunts, the odds are much better. A total of 6,555 elk were shot on these, out of 20,917 permits issued, for a success rate of 31 percent. Best of all, 37 percent of the bulls taken were 6x6s or better. Some of the better open-unit producers were the Panhandle, with 1,007 bulls and 11 percent success, Beaverhead, with 30 percent success, Boise, with 556 bulls, and Duvorshak, with 515 bulls.
New Mexico
Here you'll find plenty of elk, high success ratios, and lots of bulls in the older age classes. The elk herd stands at 70,000 animals, according to Big Game Project Leader Darrel Weybright, and 33,000 permits have been issued for this fall's hunt.
"Winter has approached normal levels of snow and moisture, so little winterkill is expected," says Weybright. "There is sufficient winter range for ungulates in New Mexico."
Southwestern units are producing some of the biggest bulls, with the Gila National Forest a top bet. Units 15 and 16 are hard to draw but have good numbers of older elk. Also try private lands such as Vermejo Park near Raton, where more than half a million acres are managed for trophy bulls.
Montana
"The elk herd is stable to increasing," says wildlife biologist Dave Pac. "The densest herds are in Region 3, in southwestern Montana." For trophy-class bulls, "Region 3 is also best, near Yellowstone Park, as well as permit-only areas in regions 4, 6, and 7." Migrating animals start moving out of Yellowstone in October, increasing in number as temperatures drop and snows deepen.
"Winter has been mild and losses have been minimal," says Pac. The outlook for this fall's elk hunting is excellent.
Arizona
This is a state where a 400-plus bull is not out of the realm of possibility. No, they're not common, but possible. Bulls in the 300-plus class are plentiful, even on public-land hunts because of the tight number of licenses allotted. This year about 29,000 tags will be sold, says Big Game Supervisor Brian Wakeling. About 40 percent of those are for bulls. The population stands at 25,626 adult elk.
For trophies, the Kaibab is a top bet, but don't overlook the central part of the state, either. The White Mountain Apache Reservation is pricey but yields terrific bulls.
Utah
From a population of 65,000 elks, Utah hunters are expected to harvest about 6,500 bulls and 8,000 antlerless elk this fall, says Big Game Coordinator Steve Cranney. "Elk populations are stable on most units 'as they are achieving population goals. The Book Cliffs Unit is increasing, with a current population of 3,500 and a target of 7,500."
Other good bets: Washington, Oregon, Nevada, British Columbia, Alberta.
MOOSE
Three major subspecies of moose are recognized by Boone and Crockett. The largest is the Alaska-Yukon moose, found throughout Alaska, the Yukon, and the MacKenzie District of the Northwest Territories. The Canada moose inhabit the rest of that vast country from British Columbia to Newfoundland, and the Shiras moose is found in the Rocky Mountains of the United States (and southwestern Alberta and southeastern British Columbia, according to the Safari Club).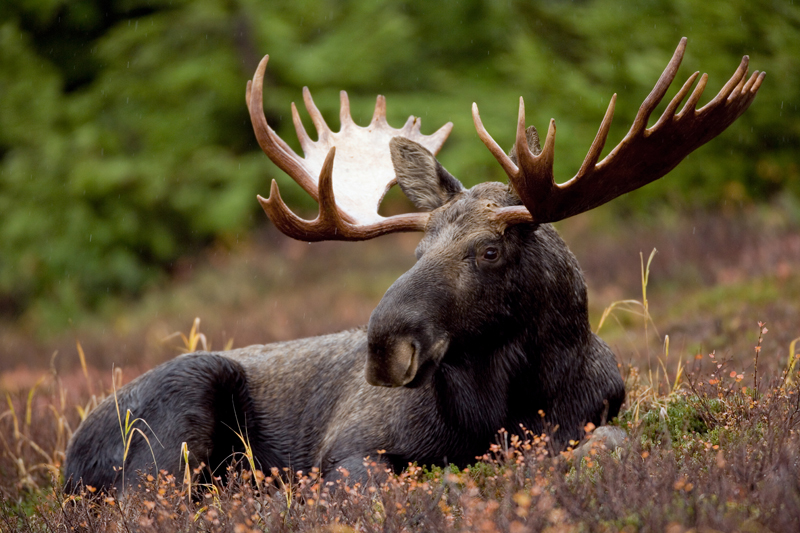 Even a Shiras
Smallest of the moose species is big. The first Alaska-Yukon moose you walk up to will look awesome. No animal is more impressive grazing along the edge of a willow-lined lake or easing across a snow-clad ridge at 7,000 feet.
Maine
Record-book Canada moose are taken here, including the top scoring specimen for the state, shot in 1984 a bull that went 214 4/8 B&C and ranks number 43 in the world. That moose was killed in Piscataquis County, but as Mammals Group wildlife biologist Gerald Lavigne says: "No area in Maine produces small moose. All hunted wildlife management districts yield 85 to 90 percent success rates. Management goals are changing, with the population to be reduced in some areas to address vehicle collisions and increased slightly in others." Moose numbers stand at 30,000 and are increasing.
Alaska
While it is home to the largest of the moose species, Alaska is facing trouble with its moose herd. "Moose numbers in Alaska are declining or stable at low densities," says regional wildlife biologist Cathy Harms. "Opportunities for nonresidents are fewer than a decade ago and will probably decline in the future. Predation by bears and wolves maintain moose populations at low densities unless predation is reduced by humans," says Harms. "Then moose populations can achieve moderate size and can be relatively stable until a deep-snow winter, habitat degradation due to lack of forest fires, or other stimulus causes a decline."
Hunters still managed to harvest 7,314 moose last year. "Success increases when you get farther away from other hunters. Traveling by small aircraft results in the highest success rate, boats second, and road transportation the lowest," notes Harms. As far as trophies, "moose on the Alaska Peninsula has historically grown the largest antlers, but body size can be large throughout Alaska." Game Management Unit 20 was the top producer for numbers, with 1,838 bagged last year.
Newfoundland
The densest population of moose in the world that's what you'll find in this eastern Canada province. Wildlife biologist Don Barney puts the current number at 120,000 strong. Some 20,000 animals were harvested last year, with a similar kill expected for 2001. Nonresidents enjoy a healthy 82 percent success rate. The moose population is stable over the eastern and central parts of the island, says Barney, increasing in some western and northern parts. The heaviest densities are in the central forested areas and in the north, where record numbers of moose are now present.
Ontario
Wildlife biologist Howard Smith puts the moose population at 115,000 to 120,000 and stable throughout most of the province. The fall outlook is excellent, with a harvest of 11,000 to 12,000 likely. The northwestern part of the province is one of the best areas in terms of opportunities and lower hunter densities, says Smith.
Quebec
Almost 14,000 moose were taken in this vast province last year. The central and western regions produce some of the best moose hunting, with good areas including Zones 15 and 18 in the central region and 12, 13, and 14 in the western part of the province. Bear Lake produced Quebec's largest moose ever, a brute that scored 238 5/8 and ranks number three in the Boone and Crockett book.
British Columbia
A whopping 130,000 to 200,000 moose call this province home, according to wildlife biologist lan Hatter. Last year, hunters harvested 9,070. "Moose populations are most abundant in central and northern British Columbia, with the highest densities in the Omineca and Peace subregions. The majority of trophy bulls come from the northern third of the province, with the northern Skeena region producing the most."
The Rocky Mountain States
The smallest of the moose, Shims can be found in good but localized populations in Wyoming, Montana, Idaho, Washington, Utah, and Colorado. Hunting licenses are awarded by drawing, and if you receive a tag, success rates are typically high 75 to 95 percent. In Montana, 520 moose were bagged in 1999.