Five major species of caribou are recognized–the barren-ground caribou in Alaska, northern Yukon, and south-central Canada; mountain caribou in British Columbia, Alberta, and southern Yukon; central Canada barren-ground caribou in the Northwest Territories; Quebec-Labrador caribou in those provinces; and woodland caribou in eastern Canada.
Alaska
"Alaska is currently home to about 850,000 caribous in more than 30 herds around the state, each ranging in size from a few hundred animals to about a half-million. Some are increasing, some stable, a few are declining," says Cathy Harms. "Most popular for hunters from outside Alaska are the Mulchatna (about 200,000 in western interior Alaska) and the western Arctic herds (more than 400,000 in the northwestern part of the state)." This is an intriguing hunt because a guide is not required, but nonresident hunter orientation is required in some game management units.
Newfoundland/Labrador
Hunters harvested 6,000 caribous here last year, racking up a success rate of nearly 95 percent. The herd of woodland caribou on the island of Newfoundland is 80,000 strong and increasing, according to Don Barney.
Quebec
Close to 1 million caribous roam in the huge George River and smaller Leaf River herds of northern Quebec and Labrador. Hunting is consistent unless the caribou decides to alter their routes at the last minute before hunting seasons arrive. Some camps stress their ability to move to cope with these potential changes in the animals' migratory patterns. Other outfitters concentrate on smaller herds that do not migrate. The limit is two caribou, and most hunters score on at least one. Hunts are mostly in August and September. Last year, the hunter harvest was 20,697, more than 2,000 above the previous year.
Northwest Territories
Anne Gunn, the ungulate specialist for the province, says management is based on sustainable harvesting rather than attempting to limit natural fluctuations. The central Canada barren-ground herd (including those shared with the Yukon' and Nunavut Territories) is 900,000 strong and mostly stable. Arctic Island caribou stand at 1,100 and are stable or decreasing. Peary caribou number 1,000 and are decreasing. As for mountain caribou, the NWT has about 12,000 to 17,000 animals, including some herds shared with the Yukon. The majority of hunts are for the central Canada barren-ground, taking a floatplane out of Yellowknife. Bagging two caribous are quite common. Hunts run from August into November.
British Columbia
This province has 16,000 to 20,000 mountain caribou. Garry Beaubien killed the world record near Turnagain River in 1976, a massive animal that scored 452 Boone and Crockett points. This area is still productive today. Also good for heavy-antlered caribou are the Cassiar Mountains, Cold Fish Lake, and the Dawson Range. Biologist Ian Hatter says most caribou are found in the Skeena (6,500 to 8,000), Omineca (3,000 to 4,000), and Peace (3,000 to 4,500) subregions.
SHEEP
Stately is the word that springs to mind. Few other game animals are as stunning perched on a grassy slope at the crest of a granite ridge. Forget dreams of bagging a Grand Slam unless you're rich and have lots of free time. But by putting in lots of license applications, you might just luck out and draw a tag for one of the western states that offer desert sheep (Arizona, California, Nevada) or bighorns (Montana, Wyoming, Colorado, Idaho, Oregon, Washington). There are even a few areas in Montana with unlimited tags, but they're so remote, rugged, and sparsely populated with sheep as to be poor choices for the average hunter.
The surest way to a quality sheep hunt is to cash out your mutual funds and book an outfitted hunt in Alaska or a western province of Canada, where herds of Dall, Stone, and bighorn sheep are well-managed and thriving, and hunts are successful far more often than not.
As far as record-book heads, during the last decade about a dozen Dall sheep were entered in the Boone and Crockett book during each three-year recording period, a dozen Stone sheep, 50 desert sheep, and 100 bighorns.
Biologist Ray Lee, of the Foundation for North American Wild Sheep, says the current world sheep populations stand at 108,800 Dall, 18,500 Stone, 34,500 Rocky Mountain bighorns, 10,500 California bighorns, and 22,500 desert sheep.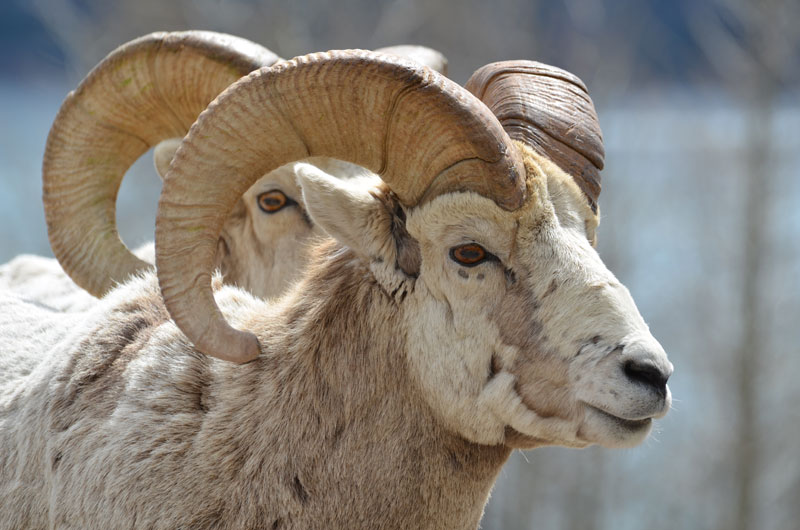 Alaska
This state is home to 50,000 to 65,000 Dall sheep, according to Cathy Harms. "Sheep numbers are relatively stable," she says, "and in a few places sheep seem to be slowly increasing after a significant decline in the 1990s."
The Wrangell Mountains and the Brooks Range are always consistent, but lately, Harms says most Dall sheep trophies come from the Chugach Mountains. Expect to pay $9,000 or higher for a guided hunt.
Montana
This state has some areas with unlimited sheep licenses, but rams are tough to come by in those units. A better bet is to apply for draw areas and build up preference points. In 1999, 438 sheep permits were issued and hunters harvested 154 sheep, according to Candy Hinz. Some of the most consistent counties include Granite, Deer Lodge, and Sanders.
Wyoming
The Cowboy State has lots of bighorns–some 6,400, says Harry Harju of the Wildlife Division. Hunters took 190 sheep in 2000. A similar harvest is expected this year. The Wind River Mountains, Park County, and the Teton Basin are all top picks.
Colorado
Some 7,600 bighorn sheep call Colorado home. The population is stable or slightly increasing. Last year, 201 ram licenses and 97 ewe licenses were issued, according to Big Game Manager John Ellenberger. Those hunters harvested 122 rams and 53 ewes. "Most of our sheep populations are in good condition, with the exception of the Purgatory herd (Unit S-61), where we received reports this winter that we had lost some sheep to pneumonia. The Carryall herd (Units S-23 and S-27) is also recovering from a pneumonia outbreak that occurred two years ago."
Idaho
This state has 1,800 Rocky Mountain bighorn sheep and 1,500 California bighorns, according to Lonn Kuck, wildlife game, and research manager. "All hunting is by drawing only, with 64 permits for Rocky Mountain and 13 permits for California bighorn sheep in 2001. Hunter success rate for rams averages 50 to 60 percent." For Rocky Mountain bighorns, try Areas 37, 20, and 26. Good bets for California sheep include Areas 41-2 and 41-4. The Salmon River area and Lemhi County produce the most record-book sheep. California bighorn sheep are found in southwestern Idaho's Owyhee County.
Nevada
This 110,000 square-mile state is 90 percent publicly owned and offers hunts for desert sheep as well as California and Rocky Mountain bighorns. The latter two have seasons in August; desert sheep aren't hunted until November and December. Tags are by drawing, but odds are tough. Clark County is far and away the top Nevada sheep spot. A distant second–Lincoln County.
Arizona
This Southwestern state has three bighorns listed in the Boone and Crockett Club's latest Records of North American Sheep, Rocky Mountain Goats, and Pronghorn, but desert sheep are its specialty, with 179 entries for that species. The current population estimate, according to Brian Wakeling, is 5,898. He expects about 103 permits to be available for this fall. Good bets include Pima, Yuma, and Mohave counties.
British Columbia
This is sheep hunters' Mecca, with populations of both Rocky Mountain and California bighorn sheep (84 in the record book), Dall sheep (three record-holders), and more Stone sheep than any other location (309). "Rocky Mountain bighorns number 3,000 to 3,700 and are found mostly in the East Kootenays. California bighorns number 2,500 to 3,800 and are most common in the Thompson-Nicola, Cariboo, and Okanagan subregions," according to ungulate wildlife biologist Ian Hatter. "Stone sheep number 11,000 to 14,000 and are found in the Skeena and Peace regions. Dall sheep number 400 to 600 and are found in the extreme northwestern portion of the Skeena region.
Most Stone sheep are managed with general open-season hunts, says Hatter. Dall sheep are the limited entry. Approximately 67 permits are issued to resident hunters.
If you're looking for a record-book Stone, top areas include the Muskwa, Toad, and Prophet rivers; Telegraph Creek; the Kechika Range; Cassiar Mountains; and Hudson Hope.
Northwest Territories
Most Dall sheep in this province are found in the Mackenzie Mountains, according to biologist Alasdair Veitch–an estimated 14,000 to 26,000. Populations there are stable and open to nonresident hunting. Another group lives in the Richardson Mountains. The number 1,500 and are increasing, but are only open for resident hunting. Last year 231 nonresidents hunted for Dall sheep in the Mackenzies, seeing an average of nine legal rams during their hunts (horns at least one-half curl). They harvested 189 rams, with an average age of 10 years. There are no roads in the Mackenzies, making this truly a wilderness hunt. The season opens in July.
Yukon
This vast province holds excellent populations of Dall sheep and quite a few Stone sheep as well. That's not surprising when you consider that the Yukon is 77 percent wilderness. The Kluane region is a hot bet for heavy-horned Dall sheep, as is the Ruby Range. A total of 62 Dall sheep have made it into the record book. The Pelly Mountains and Watson Lake are top producers for Stone sheep, with 18 record-book animals taken. A guide is required; the province is divided into 20 outfitting concessions to make sure hunters aren't crowded and the game isn't overexploited.
Alberta
Some 5,800 bighorn sheep call this province home. Look to the western and southwestern region for the top sheep hunting. Some of the best areas include Yarrow Creek, Panther River, Clearwater River, and Ghost River. This province gave up the world record, a ram that scored 208 1/8. It was taken in Blind Canyon in 1911 by rancher Fred Weiller with one shot from an 1894 Model Winchester .30-30.
MOUNTAIN GOAT
If you can draw a tag, success rates for mountain goats across their range in Canada and the U.S. Rockies is high, typically 80 to 95 percent. Trouble is, in states such as Colorado, Idaho, Washington, Wyoming, and Montana, odds can be terrible–sometimes one in 200 or less. If the price isn't prohibitive, book a good guide and hunt in British Columbia or Alaska as an alternative. Barring bad weather, these hunts should be close to 100 percent. This is classic western-style hunting, with lots of glassing and stalking in some of the most rugged and spectacular country in North America. It's a trip every big-game hunter should experience at least once in a lifetime.
British Columbia
This is the place to go for a mountain goat. The province has distinguished itself with 331 goats in the Boone and Crockett record book. "The current population," says Ian Hatter, "is between 35,000 and 63,000. The greatest abundance of goats is in the Skeena Region. Mountain goats are hunted through both limited-entry hunts and general open seasons. A total of 3,000 permits are available."
Alaska
This is the second-best spot to bag a billy. The state has 130 listed in the record book. "Mountain goats range from Unit 1A [southern Southeast mainland and Revillagigedo Island] throughout the Southeast mainland and Unit 4 [Baranof Island], through the south-central coast and into the Wrangell Mountains [Units 13 and 14]," according to biologist Bruce Dinneford. "In southeast Alaska [Region 1, Units 1 to 5] we had 151 goats killed in 1999. A total of 446 permitted hunters went afield, for a success rate of 34 percent." A guide is required for nonresident hunters. Success rates are much better on those hunts, typically 80 to 95 percent. Statewide, 341 mountain goats were harvested in 1999.
Montana
In 1999, 289 goat permits were issued, with hunters scoring on 225 billies and nannies. Try Flathead, Gallatin, and Chouteau counties–if you can draw a tag.
Washington
Numbers of mountain goats are stable at about 7,500, according to Big Game Manager Rolph Johnson, but only 38 permits will be issued. The state has 56 mountain goats in the Boone and Crockett book. Top producers for this fall should be Whatcom, Chelan, Okanogan, and Snohomish counties.
Idaho
Last year 48 mountain goats were taken in some of the steepest mountains of this state, with Bonneville one of the top-producing counties. The state record, a billy that scored 52 6/8, came from Idaho County. Lonn Kuck says 52 permits will be available for the upcoming season, and hunter success should run about 80 percent. "Mountain goats are found most commonly in backcountry units along the Salmon River and in Hells Canyon along the Snake River."
Colorado
There are 1,600 mountain goats here and 177 licenses were issued in 2000. Hunters took 103 billy and 59 nannies, for a superb success rate. Record-book goats are rare only three have been taken.