Sea kayaking is growing in popularity in Canada because it allows enthusiasts to explore nature in a personal, inexpensive way. The best kayaking locations include Vancouver Island's west coast and Nova Scotia's eastern shore.
Water chuckles softly along the slender vessel's plastic skin, the only sound to disturb the warm afternoon silence. With a light flick of her paddle, New Zealander Tina Godbert points her boat's narrow, brightly painted bow into a sheltered cove barely 20 feet across. Overhead, the moss-grown eaves of the Pacific rainforest shelter the untidy nests of bald eagles. Closer to the water, the iodine smell of kelp and sea grapes basking in the sun at low tide carries strongly across the green sea. In the sunlit depths, a starfish as red as a strawberry extends an exploratory tentacle towards a spiny black sea urchin.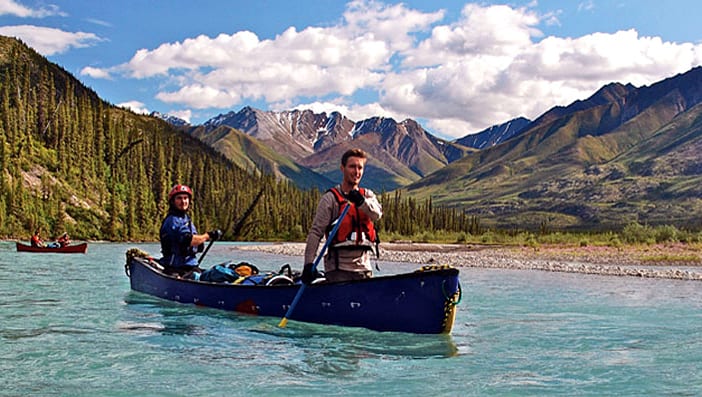 Abruptly, the reverie dissolves. As Godbert slips out of the protected cove, a small wave catches her craft, rolling it sharply. But the effect is more alarming than dangerous. Digging one paddle deeply into the water, the bronzed, bikini-topped dentist forces her nimble boat nose first into the light 10-inch chop. A wave larger than the rest dashes water across the boat's narrow foredeck and onto Godbert's exposed midriff, only partly protected by a rubber splash guard. The chilly shower prompts a sharp yelp of surprise from the vacationing dentist. But then, kayaking is meant to be an intimate experience.
These are watercraft of the most personal kind, more akin to prosthetics than to actual vessels. Properly fitted into a modern kayak, a human paddler morphs into a kind of aquatic creature, at home as a bubble on the lively surface of the sea and capable of exploring nooks and crannies of coastal nature previously accessible only to seals, otters, and ducks.
"We had seen pictures of people kayaking with orcas," enthused Godbert, who paddled Barkley Sound on Vancouver Island's west coast with companion John Doig last summer. And while the couple did not, in fact, see any of the area's resident killer whales during their three-day trip, Godbert consoled herself: "We did see a bald eagle instead."
Such unparalleled close-ups of nature are one reason for the fast-growing popularity of sea kayaking on both the Atlantic and the Pacific coasts. Equally attractive to aging baby boomers is the modest physical effort needed to handle a kayak. At 60 lb. or less, the tiny vessels are light enough to launch by hand from a car-top carrier for an afternoon outing-while being roomy enough to carry enough camping gear and food for a 10-day cruise. Factor in the relatively modest cost rentals starts at about $30 a day and it's little wonder that these modern, high-tech counterparts to the ancient Inuit kayak have become the coolest new way to sample nature firsthand in safety and comfort.
Observes Maggi Slassor, who operates a kayak sales, rental and guided-tour business out of Port Alberni, B.C., 140 km northwest of Victoria: "It's a cheap way of getting out on the water. It's not as strenuous as mountain biking or hiking. And the creature- comfort level is definitely higher."
Inexpensive they may be, but today's kayaks are hardly unsophisticated. Moulded from various materials in lengths from 16 to more than 21 feet for two-person boats, modern kayaks are highly evolved watercraft. Although they closely resemble their traditional sealskin-and-wood precursors, contemporary kayaks are built from resilient and durable plastic, fiberglass, or even graphite and nearly indestructible Kevlar. Flotation chambers ensure safety, while watertight hatches fore and aft keep gear dry. Seats on most models adjust for comfort, as do the pedals that control a small, stern-mounted rudder. (Steering can also be accomplished in the traditional manner, by paddling on one side or the other of the boat.) Light, strong and responsive, the boats take little time or strength to master. They are also significantly safer than their closest floating relative.
"You can take rougher water and not be as constrained as you are in a canoe," says veteran kayak guide Ron Needham of Port Alberni. "Your armchair athlete," he jokes, "can quite easily get into kayaking."
The price of a kayak encourages involvement. Single-passenger boats made from the plastic start around $1,500. Fibre-glass versions go for twice that much while graphite-and-Kevlar models carry prices as high as $4,000. The merely curious, however, can try the experience for substantially less. One Vancouver Island outfitter, Alpha-Wave Adventures Ltd., rents individual kayaks for as little as $30 a day and offers custom-guided excursions into some of the most heart-stoppingly beautiful scenery on the B.C. coast for about $100 a day per person. Rates are comparable on Canada's east coast, where kayaks offer an unmatched way to explore the coves and islets of Nova Scotia and New Brunswick.